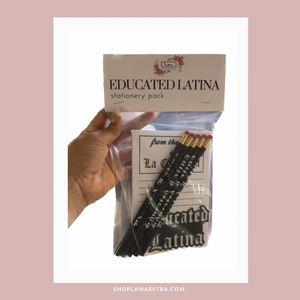 The perfect pack to remind you of the boss babe you are. From your desk to the world!
This pack includes all the OG best sellers:
•5 Expressive Pencils with direct print of 'Educated Latina' and 'Chingona' on pencil body Mixed #2 graphite pencils
•Die Cut Educated Latina Vinyl Sticker 4" X 2.5"
•Educated Latina Sticker 6"X3" black matte sticker
•'From the desk of La Chingona' notepad